Everything happens in a snap these days. With just a few clicks, you can transfer money to your account, make an online purchase, and even check the status of your business finances in realtime. Indeed, we are living in a fast-paced world. The rule of thumb is pretty simple: if you don't follow this pace, you'll get left behind. With this trend in our midst, it's little wonder why even something as basic as consuming food has also taken a different turn. Whereas before, ordering takeout is the typical busy person's go-to habit, now they are more into prepared meals.
Prepared meals from Thistle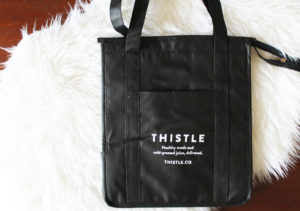 Most people today are too busy to prepare their own meals, so they succumb to an unhealthy lifestyle. They eat on-the-go and choose meals that are too greasy and laden with too much fat and MSG – and we all know how these would often lead to obesity, diabetes and other chronic disorders. So instead of putting their health at risk, some individuals opt for prepared meals, instead. Joining the bandwagon on prepared meals is the food delivery startup Thistle.
Owned and managed by real-life couple Ashwin Cheriyan and Shiri Avnery, the prepared meals from Thistle belong to two basic categories: ready-to-heat and ready-to-eat. Having been immersed in this business for quite some time now, the couple believes that prepared meals is the solution to their customers' woes. Through Thistle's prepared meals, they can still be able to live up to the demands of their busy schedules without unnecessarily compromising their health.
A sudden change of heart
The business was thriving, but their personal experiences urged them to change their mind. When the couple had their own child, they realized that aside from prepared meals, there is something else they can (and should!) foray into: meal kits for babies.
While parents can find baby food ingredients at the grocery store, the options there are not always healthy. On the other hand, going out of their way to buy healthy food and preparing it from scratch would eat up too much time. This is where Thistle Baby hits the sweet spot.
Thistle Baby: The How's and Why's of Meal Kits
Meal kits for adults can be frustrating and time-consuming. But it's different when you're preparing a meal for your little one.
Organic and gluten-free food for your little bundle of joy – that is what Thistle Baby is all about. It offers bags of organic finds that parents can easily steam or puree to breeze through the entire process of healthy food preparation for their babies. Another great thing with these meal kits is that parents can add spices on their own, depending on their personal preferences.
Vegan and vegetarian-friendly meals for you is a great way to live healthy; adopting something similar for your baby is even more worthwhile. A lot of parents deal with their kids' nutritional deficiencies but if you choose a healthy lifestyle for your child early on, health problems will easily be kept at bay. Kudos to the food delivery startup Thistle and to Thistle Baby for bridging the gap between the busy contemporary lifestyle and healthier food choices.